Como cargar y descargar presets en la Nova system
Programas Necesarios:
Nova manager (Win) (Mac) (Documentación) solo se puede (por ahora) descargar presets, bancos, hacer copias de seguridad del sistema, etc. Hay un grupo en Yahoo donde puedes encontrar toda la información con respeto a este software desarrollado por usuarios, la única pega es que esta en ingles.
SysEx Librarian con este programa puedes descargar todos tus presets y sonidos, tanto de fabrica como propios,
Este pequeño programa permite descargar todo el banco de sonidos de una vez, después en el Nova manager se pueden abrir y editar en el pc o mac.
COMO DESCARGAR TUS PRESETS:
Abre el programa SysEx Librarian , te reconocerá tu dispositivo MIDI, hay dos botones arriba a la derecha "Record One" "Record Many", si quieres descargar en tu portatil todo el banco pulsa "Record Many" y en la Nova System:
Menu>MIDI Setup>Dump Bank
Ahora deberías ver en el programa como empieza a transferir tus bancos de sonidos. Los guarda en Documentos>SysEx Librarian>UNKNOWN (creo que lo guarda con ese nombre por defecto yo lo renombré)
-Despues en el Nova Manager:
OPEN>BANK>UNKNOWN
COMO CARGAR PRESETS EN EL NOVA MANAGER Y ENVIARLO A LA NOVA SYSTEM (MAC)
Cuando abres el programa asegurate de que la configuración MIDI es correcta:
MIDI>SETTINGS> aparecen estas opciones:

*User MMJ instead of Javax.sound.midi API (debes seleccionar esta opción)
*Select Midi input port (debes seleccionar el dispositivo midi en mi caso UM-ONE)
*Select Midi output port (debes seleccionar el dispositivo midi en mi caso UM-ONE)
Si lo ha encontrado aparecerá un mensaje con este texto:
One Nova System found with SysEx ID=0. (en mi caso 0).
Abrir Preset (descargado o propio)
Si quieres puedes editar cada sección, donde aparecen los parametros al hacer doble click en cualquiera podrás cambiar los valores.
En el Titulo arriba aparece el nombre del preset, en este caso "With or without you" si haces doble click en el número del banco (la parte seleccionada) hay vas a poder elegir en que banco y numero quieres guardarla en tu Nova System, te aparece la opción "Current preset" no la selecciones, asi podrás elegir donde quieres guardarla, en mi caso he elegido Banco 12-1.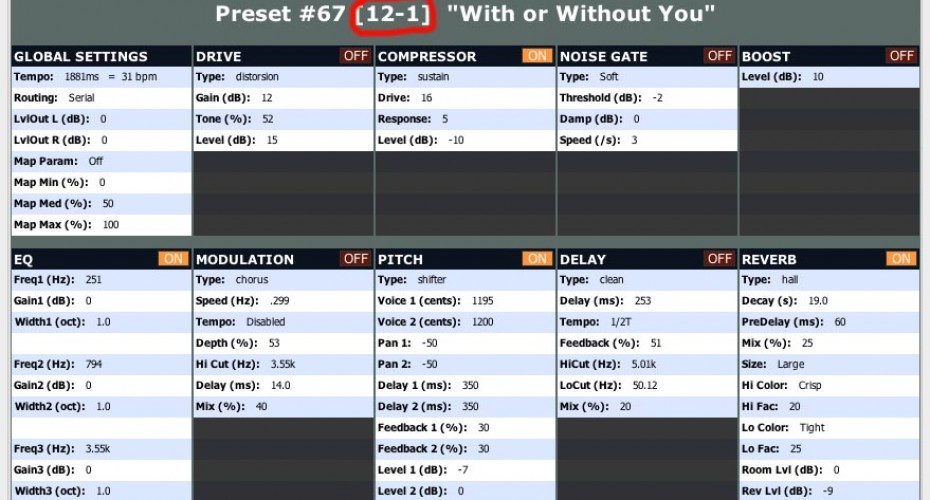 MUCHO CUIDADO CON EL LUGAR DONDE GUARDAS EL PRESET QUE QUIERAS ENVIAR A LA NOVA SYSTEM, PORQUE SI LO HACES EN UN BANCO QUE YA TENIA UN PRESET ANTERIORMENTE LO VA A RE-ESCRIBIR Y YA NO LO PODRÁS RECUPERAR, ASEGURATE DE QUE LO GUARDAS EN UN BANCO VACIO
Una vez editado, para enviarlo a la nova system solo tenemos que elegir la opción de la derecha abajo "SEND TO NOVA" Se despliega un pequeño menu con dos opciones:
-SEND TO NOVA Y 0 (creo) haz click en la que no estaba visible y listo, ya tienes el preset cargado.
Si quieres mas información sobre el uso de la nova system, hay un hilo en la pagina de guitarristas.info sobre prácticamente cada aspecto.
Espero que os sirva de ayuda, un saludo!